Boise, ID Child Day Care
Creative Children's Center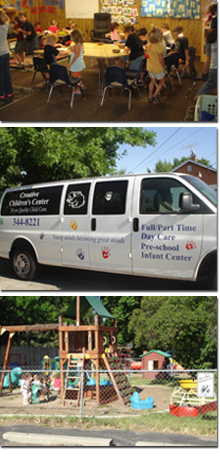 Creative Children's Center offers a loving, caring, and positive environment for children in Boise, ID. For over 34 years, we have been helping children from infants to 6th grade develop their creativity, social skills, physical health, and curiosity about the world. By encouraging children to ask questions and express their thoughts and feelings, we help prepare them for life and interactions with peers in and out of school.
Learn More About Creative Children's Center:
Pre - school and all day programs
We have a separate infant center
Our instructors are CPR and First Aid Certified
All the children get breakfast, lunch, and an afternoon snack
Our rates are very reasonable and discounted
Transport school age children to area schools
Creative Children's Ctr — changing young minds into great minds!
Creative Children's Center can help your child by providing before and after school activities.
Contact Creative Children's Center at 208-344-8221 to find out what we can do for you and your child.

Hours of Business:
Monday - Friday: 6:00am to 6:00pm


bhlarse@gmail.com

Methods of Payment: